HOME

>

Store & Restaurant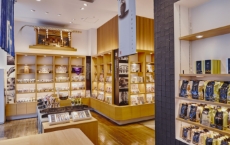 A place to discover the deliciousness of genuine dashi
Ninben was founded in the Edo period, with the setting up of a few side-by-side stalls selling katsuobushi (dried bonito) and shiobushi (salted and dried fish) in 1699. The store has changed with the times over more than 300 years, including the Meiji, Taisho, Showa and Heisei periods. On October 28, 2010, a new store was established nearby in the COREDO Muromachi Building, in Nihonbashi. It has continued to enjoy a reputation as a place to discover the deliciousness of genuine dashi (soup stock).
Nihonbashi in Tokyo is the birthplace of Ninben. We hope to continue promoting katsuobushi, a treasured Japanese fermented food, to future generations, for decades or even centuries to come, so that people around the world can appreciate the "deliciousness of dashi." At the original Nihonbashi store, demonstration sales of hongare katsuobushi and the Nihonbashi Dashi Bar, based on the concept of "one soup,one meal" are both popular attractions. Please feel free to pay us a visit!


Eat-in space for the renowned products of original Nihonbashi store.
Experience the taste of genuine dashi!
The Nihonbashi Dashi Bar is an eat-in space at the original Nihonbashi store where customers can enjoy the delicious tastes of genuine dashi. As well as being able to enjoy a bowl of katsuobushi-dashi for just 100 yen, you can try a wide-ranging menu including new soup and katsuobushi rice dishes each month, and limited edition bento (boxed lunches).
Take a quick break from shopping with a cup of katsuobushi-dashi and nure-okaki (soft rice cracker) or dashi-sen (rice cracker). Or for a light lunch, you can enjoy a bowl of soup filled with seasonal vegetables. Why not start using katsuobushi for a healthy life, inspired by the Nihonbashi Dashi Bar?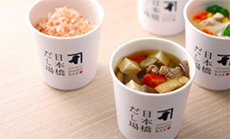 See professional katsuobushi shavers at work. Smell and taste freshly shaved flakes.
At the Nihonbashi Shaving Counter within the original Nihonbashi store, katsuobushi shaving demonstrations are conducted by professional shavers. Accompanied by the pleasant "shu-shu" sound of katsuobushi being shaved and enveloped by the rich aromas in store, you can get advice on all aspects of katsuobushi including how to shave it. Naturally, you can also purchase freshly-shaven flakes. Drop by to appreciate the special taste of fresh katsuobushi!

Full lineup of Ninben regular products proudly on display!
All our most popular regular products are available to buy in store. The Showcase area is where you can find "Tsuyu no Moto" noodle soup base, "Fresh Pack," kezuribushi and "Dashi Pack" katsuobushi, "Takikomi-gohan-no-moto" rice flavoring and the "Washoku Club" range of frozen products. Whether you prefer "Special hongare katsuobushi Tsuyu" or "Shiro Dashi(Light-colored condensed soup stock)" hongare katsuobushi from "Tsuyu no Moto," or "Stringy" or "Thick-cut" kezuribushi, there's a wide variety of staple items to choose from.
Access
・Tokyo Metro Ginza Line / Hanzomon Line Mitsukoshimae Station Exit A6 1minute
・JR Sobu Line ShinNihonbashi Station Exit A6 1minute
Business Hours

10:00am - 8:00pm
(Open 365days a year excep January 1st)
(10:00am - 7:00pm for December 31st)
Address

1st Fl. COREDO Muromachi 1 2-2-1,
Nihonbashi Muromachi,Chuo-ku,Tokyo
TEL

03-3241-0968
Ninben's delicious dashi, served according to the concept of "one soup,one meal"
At the Nihonbashi Dashi Bar, there's an extensive menu based on the concept of "one soup,one meal" including katsuobushi-dashi (soup stock of dried bonito), new items each month, katsubushi-meshi (rice with bonito flakes), limited edition bento (boxed lunch) and a range of side dishes. We present a Japanese-style food lifestyle based on the healthy benefits of katsuobushi.
Our staff strive to convey the "deliciousness of genuine dashi" through katsuobushi. We look forward to seeing you!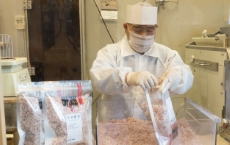 "Koten-waza" (classic techniques) utilizing the flavor of dashi in standard dishes, and "Hanare-waza" (modern techniques) dishes drawing out the new appeal of dashi.
"Japanese taste starts here."
Promoting the food culture of a new Japan.

Our first restaurant operation Nihonbashi Dashi Bar Hanare, a collaboration with Cafe Company, is now open in COREDO Muromachi 2.
Since Washoku (traditional Japanese cuisine) was designated by UNESCO as an Intangible Cultural Heritage, Japanese food has drawn increasing attention. At this restaurant, we offer a variety of cuisine in the "soup, rice plus three side-dishes" style, utilizing the "flavor of dashi" cultivated by Ninben over the past 300-plus years.
Much like dressing down in a fashionable kimono, we serve a lineup of dishes that respect Ninben's unique style and history while allowing you to taste the true quality of the food in a more casual manner. The area of Nihonbashi, which was the starting point of the "Five Highways" in the Edo Period and is now a business district supporting the Japanese economy, is a similar mixture of the old and the new.
The district's long-established storekeepers, businessmen and shoppers are linked and brought together through various situations by food. Precisely because we have the foundation of standard dishes that bring out the flavor of dashi in a straightforward way, we are able to challenge with "hanare-waza," allowing you to enjoy not only the food but also the atmosphere. We place much importance on the pledge of Ninben - "Japanese taste starts here. Preserving traditional flavor" - combining the new with the old to present new values and styles.
Dashi cuisine's ever-changing fixation on real "
umami

"

We offer cuisine in a one-soup-three-dishes style, utilizing katsuobushi-dashi's primary savory taste of umami. Traditional and familiar dishes are made by "Koten-waza" (classic techniques), while the dishes bringing out the new appeal of dashi are made by "Hanare-waza" (modern techniques). Through this duel approach, we serve creative and tasty dishes such as hearty dashi soup, dashi- takikomi-gohan (dashi with boiled rice) and seasonal side dishes.

Gudakusan

(hearty) dashi soup

The "Koten-waza" menu is focused on standard clear soup using katsuobushi-dashi and soup with a miso base, while the "Hanare-waza" menu adds a little extra Western-style dashi to the standard katsuobushi-dashi. To compliment, we have a range of regular dishes.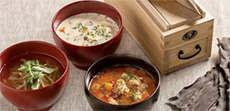 Dashi-takikomi-gohan
The "Koten-waza" menu is comprised of traditional Japanese-style dashi-takikomi-gohan using katsuobushi-dashi, while the "Hanare-waza" menu offers a variety of unique, modern interpretations of this well-loved dish by adding Western-style dashi to the katsuobushi-dashi, served in a Western-style pot.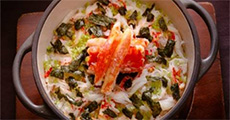 Sweets
We offer a range of sweets, such as Japanese-style parfait and dora-yaki (bean jam pancakes) that can be enjoyed as a snack as well as a dessert following the meal, with added accents like mitarashi sauce made with dashi.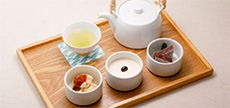 A space created on the themes of "texture," "tradition" and "style"
Nihonbashi Dashi Bar Hanare conveys Japanese original "dashi culture" and lifestyle to the next generation, in a space linked to the concept of food.
Employing the skills of artisan plasterers and carpenters, with materials that convey the appeal of original, "raw" quality, we express the link between techniques utilizing raw materials and the unique food culture of Japan.
Time-honored Japanese wall decorations and the use of traditional design motifs convey a sense of our history spanning over three centuries, while retaining a simple Japanese modern style.
This simple modern Japanese space is a place for "play." In other words, we offer items that allow diners to "dress down" while discovering true quality. That is the style that we express.