Japanese Steamed Egg Custard
(Chawan mushi)
茶碗蒸し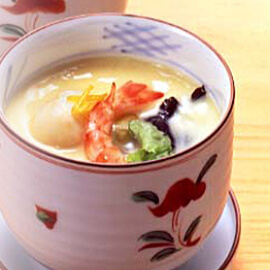 Ingredients (2 Servings)
・1egg
・2medium shrimps without shells and heads
・1.05oz (30g) chicken breast
・2shiitake mushrooms
・2sliced fish sausages
・1tbsp (15ml) Shirodashi
・1cup (200ml) water
Method
Beaten eggs and strain it.
Mix strained beaten egg and Shirodashi
Remove back veins from the shirimp.
Cut the chicken breat, shiitake mushrooms and fish sausages into bit-size pieces.
Place cut ingredients in 2 individual bowls. Pour in the egg mixture.
Cover each container with a lid and place in a steam cooker.
Steam over low heat for about 15 minutes.