Fried Chicken
からあげ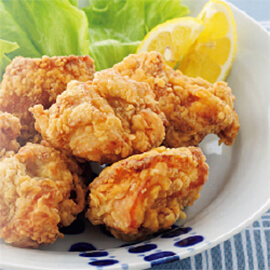 Ingredients (2 Servings)
・3tbsps Tsuyu no moto
・1tbsp cooking sake
・1/6 oz (5g) garlic
・1/6 oz (5g) ginger
・3tbsps potato starch
・3tbsps wheat cooking oil for deep-frying
・10.5 oz (300g) chicken thighs, boneless
・1/2egg
Method
Cut the chicken thighs into bite-size pieces.
Grate the ginger and garlic. Place with Tsuyu no moto and sake into a bowl.
Put the chicken and marinate it for 20 minutes in the refrigerator.
Rub beaten egg on the chicken and dust with potato starch and wheat.
Shake off excess.
Heat the oil over medium heat to 340℉ (170℃).
Deep-fry for 3 to 5 minutes until golden brown and floating to the surface.